To my dearest:
I have a confession to make. I am a shopaholic. Yes, I said it. I don't know how many of you have the same problem as me. Living in New York, there's always so many temptations. There are so many fashionistas here. Just hopping on the train and I'll probably see something I wish I had. This caused me to have a wish list that is long enough to run across the globe and back. It doesn't stop there either. Whenever I go shopping, it makes me extra happy to end the day with buying something – anything! This created a lot of problems for me. I'm recently cleaning my room and boy oh boy is it cluttered! And honestly, my living quarters are not that big.
This leads me to think about what I honestly need in life. I have a friend who lives a minimalistic life and I never thought she lacked anything. In fact, I felt that she was more on point in life than me. Now, minimalism is not something that you can go into lightly. It truly is a decision and a journey. I'm not here to persuade you to live this life. Heck. I don't even think I actually can be a true minimalist. But, I think there are certain aspects we can learn from and adapt to.
One thing I'm trying to do is – with things I want to buy, I try to limit the amount of items that are on my wish list. As much as possible, I try to buy things that I can use for years to come. The words "timeless" and "classic" come into mind. For example, with bags, I ideally want to limit my collection to only ten bags. This way, you will think of what color, size, and function you want your bags to have. You only have ten spots, so you will think twice before making a purchase. Because, these slots will fill up fast!
Another example is with shoes, while I can't be minimalistic enough to live off two to three pair of shoes. I can make categories and limit myself to what I can have. I can limit myself to only one pair of flats, one pair of loafers, one pair of ankle boots, one pair of tall boots, and three pair of heels. I'll still have seven pair of shoes in rotation. But this really sets myself to think about what I really need. After setting boundaries, do your best to keep it.




For me, I don't consider UGGs, sneakers, or flip flops part of deal. However, still try to limit yourself to perhaps one item per category. This way, you'll have an efficient wardrobe. I haven't actually established this habit myself yet, because I have shoes I bought from way before that I failed to get rid of.
However, going forward, this is a goal I want to set for myself. Again, do this to live a happier life. It's not meant to make things tough for you. It's just meant to help you realize what you need and along the way maybe save some money. If you really want just an extra pair of loafers or something as a treat. Do treat yourself, but also keep tabs on yourself to see how much clutter you have.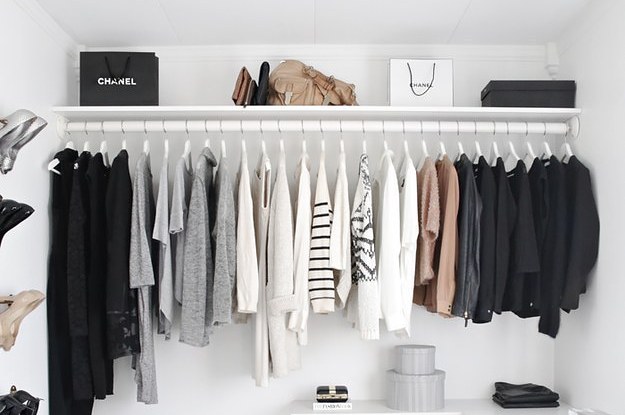 I'm a girl with a budget and a limited amount of space. I find that having a mentality of a limited amount of things I can own helps me control impulse buying. It also helps with money management. I would have a good idea of how much something I want to purchase is and I can save up for it accordingly. This way I won't have to break my bank for it. It does well for credit card bills and bank accounts as well.
I also find that, this mentality allows me to live for what I believe in — the quality of living. I made a personal choice of enjoying a life with quality and abandoning consumerism. I can purchase things in life viewing them as a life long investment for their quality. While they may be more expensive, I will most likely end up spending less in the long run. I'd spare myself from spending money on little insignificant purchases that may tarnish in due time. And who doesn't want a collection of beauties that will always retain value?
Let me know what you think of this idea. Do you think it will help you stop being a shopaholic? What ways are you taking to stop yourself from buying everything your heart desires? Leave some tips for me and others! We would love to know.
Thanks again for dropping by!
Instagram | FB | Twitter | Pinterest | G+
_________________________
BLAZER: CHARLOTTE RUSSE
CROP TOP: F21 (similar here)
SHORTS: ALICE & OLIVIA (similar here)
BAG: CELINE TRIO
SHOES: BCBG
Latest posts by Sincerely Ophelia
(see all)
PHOTOGRAPHY: KONMASA \\ STOCK PHOTO: PEXELS