To my dearest:
This week, Spring is hitting us head on! This past Easter Sunday in New York was recorded as the second warmest Easter in the history of New York! WOWs! With that, it's time for us gals to contemplate on cleaning out our Winter wardrobe and pulling out clothes for Spring. Or perhaps, since it's the beginning of the season, you're tempted to buy new clothes for your wardrobe! During this time of the year, I'm usually stalking pinterest and instagram for style inspiration.
This year, left and right I'm seeing ONE THING – off the shoulder tops. While I've always been a fan of off the shoulder tops, I've never seen it this big before. I have to admit, off the shoulder tops are very appealing. It's feminine and alludes a sense of mysterious sexiness, well… because it's so flattering on all types of necklines. It also comes in many style, color, and print! It's so fun! And I think it's perfect for Spring!

This week, I was sporting an off the shoulder romper. Off the shoulder has many different styles – tops, rompers, dresses, etc. There are so many possibilities and combinations. I chose a romper for the simplicity of not having to pair anything else with my outfit! It really saves time thinking what to wear for top and bottom! Pair it with a pair of heels or wedges and you're golden! It's a look that'll guarantee you no headaches!

After that, the only accessory you need is your smile! A smile is the best accessory! Ok… maybe you'll need a bag too! Anyhow, the style is just super flattering and works so easily in your wardrobe! Lay back with an easy go-to romper or dress or have fun mix and matching all the endless possibilities with tops!




FUN-SIZED PETITE STYLIST REVIEW



The featured item of the day, is the Floral Ruffle Romper. I find that off the shoulder rompers are perfect for petites. The off the shoulder top elongates the neckline, while the bottom shorts elongate your legs and give a slimming effect. I'm wearing an XS and it fits true to size (Although I do feel it is slightly more puffy than I would've liked). The shoulder elastic area is comfortable and does not ride up when I lift my arms. It also actually has straps, but I tucked it in to create this no strap look. It's easy and you can have two kind of styles for the price of one! For the price, I couldn't have asked for more. I actually just ran in the store to purchase this in order to post about this topic! So it was a good find on my part!
—
Cheers! And I hope you all enjoy the lovely weather! I invite you to drop a comment below and let me know whether you prefer to mix and match with tops or lay back with rompers and dresses! Either way, it's mucho love!
Instagram | FB | Twitter | Pinterest | G+
_______________________________
ROMPER: CHARLOTTE RUSSE
BAG: REBECCA MINKOFF MINI M.A.B
SIMILAR SHOES: STEVE MADDEN SUEDE WEDGES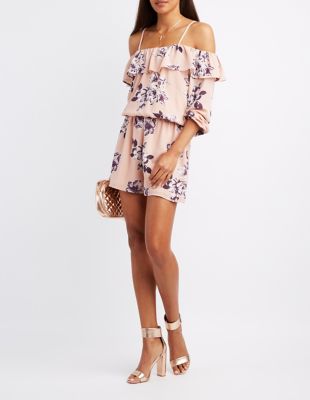 WHAT I'M WEARING: Floral Ruffle Cold Shoulder Romper
Price: $28.99 | NOW:$25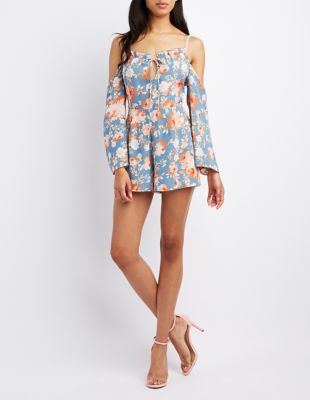 SIMILAR STYLE: Floral Cold Shoulder Romper
Price: $28.99 | NOW: $25
** Free Shipping at $50 **
SPECIAL OFFERS:
$15 off orders $90+ using code APR15CR (4/2 – 4/30 at 3 AM EST.)
10% off orders $70+ using code APR10CR (4/2 – 4/30 at 3 AM EST.)
30% off order (5/1 ONLY)
Latest posts by Sincerely Ophelia
(see all)